fresh ink:
January 23
Arduous Journeys
Shawn E. Okpebholo Two Black Churches
Richard Auldon Clark The People Speak, 2008, rev. 2021, for baritone and string quartet
Derek Bermel Nine Revolutions, 2019
Mark Olivieri Here This Day: Scene 1: Prologue and Invocation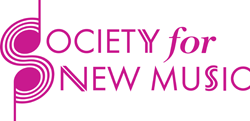 what's new:
Applications Being Accepted for HWS Composer's Sandbox Summer Intensive
SCI Region II Conference: November 4-6, 2022
see and hear

Suggested giving levels
Friend: $100-$199
Patron: $200-$299
Angel: $300-$499
Sustainer: $500-$749
Sponsor: $750-$1000
Stay in touch.

Sign up for our mailing list, and connect with us on Facebook and Twitter.





who we are
what we do
438 Brookford Rd., Syracuse, NY 13224 snm@societyfornewmusic.org