fresh ink:
March 16
Dialects
Gerry Murphy Dialects, 1994
Zhou Tian Poems from the Song Dynasty, 2011
Vinicio Meza Retratos, 2002
Lyle Chan Passage, 2010, and Calcium Light Night
Michael Daugherty The High and the Mighty
Persis Parshall Vehar Dona Nobis Pacem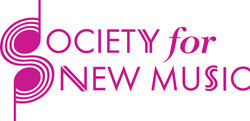 what's new:
Review: Society for New Music presents "The Now Generation"
Society News, January 2014
2013 Brian M. Israel Prize Winners Announced
see and hear
what's next:
March 22, 7:30
Vision of Sound
Hochstein School Auditorium, Rochester


New music with dance.

Music by Amit Gilutz, Ted Goldman, Diane Jones, Sally Lamb McCune, Mark Olivieri, and Steven Stucky.

Musicians include Rob Auler, piano; Elinor Frey, cello; Rob Bridge and Jennifer Vacanti, percussion.
grants/resources