fresh ink:
May 28
Responses ...
Adam Schoenberg Bounce
Caroline Shaw To the Hands
David T. Little dress in magic amulets, dark, from My feet
Allen Shawn Playful (from Recollections, 1998)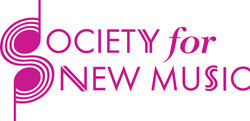 what's new:
Registration now open for 2017 Young Composers Corner
SNM's new 2-CD recording now available
see and hear
Suggested giving levels
Friend: $100-$199 Donate at the Friend level and receive one free season ticket.
Patron: $200-$299 Donate at a higher level and receive two season tickets.
Angel: $300-$499
Sustainer: $500-$749
Sponsor: $750-$1000
Stay in touch.

Sign up for our mailing list, and connect with us on Facebook and Twitter.



who we are
what we do
438 Brookford Rd., Syracuse, NY 13224 snm@societyfornewmusic.org