fresh ink:
July 30
Intimate Music
Zhou Tian Concerto for Orchestra, 2016
Fred Lerdahl Quiet Music, 2001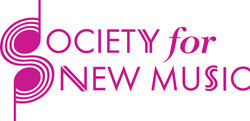 what's new:
2017 Brian Israel Prize Winners Announced
SNM's new 2-CD recording now available
see and hear
Suggested giving levels
Friend: $100-$199 Donate at the Friend level and receive one free season ticket.
Patron: $200-$299 Donate at a higher level and receive two season tickets.
Angel: $300-$499
Sustainer: $500-$749
Sponsor: $750-$1000
Stay in touch.

Sign up for our mailing list, and connect with us on Facebook and Twitter.



who we are
what we do
438 Brookford Rd., Syracuse, NY 13224 snm@societyfornewmusic.org